Meet Dr. Garth Thoms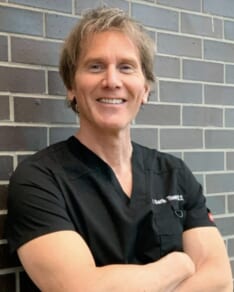 Garth grew up with his brother and sister, in a small village North of Toronto. Here he spent much of his time exploring nature with his older brother and building things from his imagination — as the son of an Industrial Arts teacher he was inclined to the creative outlet of woodworking, modelling and sculpture.
At an early age he knew that he wanted to be a dentist. After high school he went to University of Toronto to pursue this endeavour. Working summers and winter breaks at a metal fabrication plant to cover undergraduate expenses.
Entry into Dental school at McGill University in 1990 was a busy one — That year saw the marriage to his wife Anca and finished with the birth of their first child, Amanda. And of course Amanda needed a sibling to play with, so Garth went back to second year of dental school with Amanda's baby brother, Alexander.
After graduating from McGill in 95, Dr. Thoms was accepted into a coveted dental internship program at Toronto General Hospital. Upon completing his internship program, Dr. Thoms began practicing dentistry and honing his craft in the beautiful town of Whitby, adding three more children to the mix — Alicia, Christopher and Logan. When not working Garth enjoys cycling and gym time, music, art and literature and hanging out with the family.
For over two decades Dr Thoms has continued to enjoy practicing the art and science of dentistry within the Whitby community. He is a member of Spear Education and an active participant in a local Spear study club group.